Intervju: Marcelo Yogui Santiago
When and how did you first come in contact with Jiu-Jitsu?
First I want to say it's a pleasure to share a part of my history. My first contact with Jiu-Jitsu was from my father who was training with Carlson Gracie at Gracie Academy in Copacabana. That was the headquarter for the sons of Carlos Gracie and we all trained there. One day I came back from school and my father was having a dinner with Professor Carlos Gracie in the dinner room, he was a good friend with my father. Professor Carlos cured people with natural medicine and the excellent Gracie diet, which my father followed it for many years. That was my first contact with the Gracie family, he ask me "why don't you start training Jiu-Jitsu?" and I told him I don't know much about it and he give me Rillion's card (his son). On my birthday I got some money to buy my first JJ kimono and after that I went to Ipanema to Professor Carlos house and started training. On the third floor there was a big tatame where they had private classes, some guys of the family was also sleeping there. It was 1981 when everything started.

Can you tell us a bit about your childhood and growing up in Brazil?
I grew up in Copacabana, Rio de Janeiro and we were living at Avenida Atlantica. I spent a lot of time in another area called Tijuca where my mother was living. Growing up in my city can be very tough many times, but it can't be better with all the friends and the life we have there.
When and from whom did you receive your black belt?
I got my black belt from my teacher Carlos Gracie Jr in 1995-09-24, one of the happiest moments in my life.
Have you trained any other martial art?
I was training boxing for some years and I really like the sport and it help me a lot how to walk and keep a good balance.
How come you ended up in Sweden?
In 1997 I got a visit from a Swedish guy named Peter Zethraeus who came to visit Brazil with a friend. From his flat he could see the training and he decided to come and check out the training. He came with a friend who spoke Portuguese, because back then I didn't speak any english at all. Peter trained with us for two weeks. Two days before he was leaving he asked me if I could come to Sweden to teach at his friends academy. My answer was yes, no problem. He came back with a ticket two days later and less than two weeks later I was walking at Sveavägen Stockholm, the warmest summer in 100 years I believe it was. I was teaching at Kampsportskolan, Thomas Rasmussens academy in Stockholm.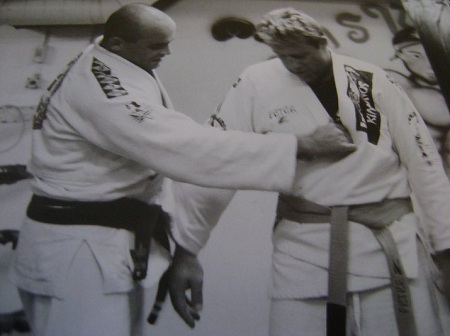 Marcelo & Peter Zethraeus.
How did you get the nickname "Yogui"?
It was a cartoon. My friends were joking with me and I got pissed. They called me Yogui so much so it became like a second name and now a day everybody calls me Yogui.
As I understand you are the head BJJ instructor at Gladius MMA, for how long have you been teaching at Gladius MMA?
I'm teaching at Gladius and have done it for some years. August Wallén always invited me to come and help out the guys at Gladius. The relation got even closer when Martin Janson, my student and my first black belt in Sweden, come to Brazil and we became good friends directly. After that I came more often to Gladius. I'm now teaching full time at Gladius since june 2010 and the group are growing very much, both with kids and adults, we are doing a great work there.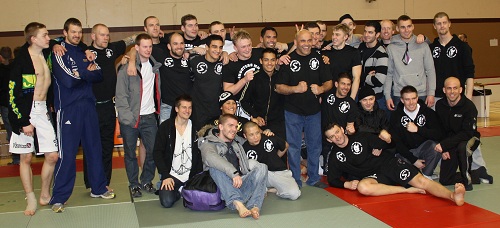 Gladius MMA at Gameness 2011.
Do you have your own academy also?
Yes I have my academy inside the club called Flamengo, after the biggest soccer team in Brazil.
What do you like the most when it comes to teaching Jiu-Jitsu?
To see how the sport can give so many benefits to people, it really can change lives and mentality about lead with problems in your life and help to get a better self confidence. You also learn how to defend yourself and have a really good workout. Teaching for me is my life and my passion. My students' victories are my victories too.
Is it possible for you to teach Jiu-Jitsu full time in Sweden or do you also have a "normal" job?
I don't know many people who living from the sport here in Sweden, everybody have a second job. I do work at Gladius because we are big organization with many members and have an excellent project for the future with kids and the competition team. Things will grow in Sweden and BJJ will be really big soon.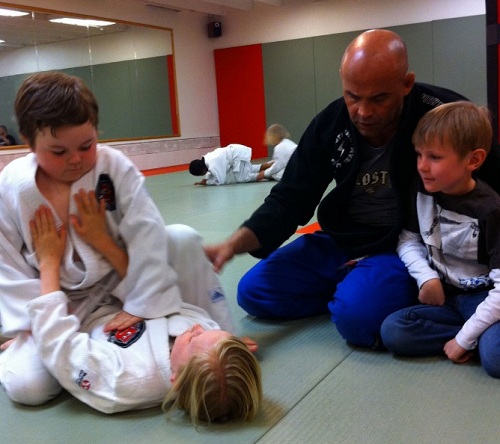 Which of your competition achievements do you value the most?
I have competed a lot and my favorite moment was in Miami 1999 at the Pan-American where I got the gold medal, just after my daughter was born and this moment mean a lot to me.
What is your most memorable Jiu-Jitsu moment?
The first was when I meet Mr. Carlos Gracie, the legend of JJ, and had a chance to learn something from him. The second was when Royce Gracie fought many fights in one night in UFC against huge guys and the Jiu-Jitsu showed its power for the world.
Which individual has meant the most to your Jiu-Jitsu?
I have had many training partners so it's hard to say some name. Renzo Gracie has helped me, and all of the BJJ community who has had a chance to meet him, understand that you can be a tough guy but also am extremely nice person. Many thanks to Renzo for all he gives to me.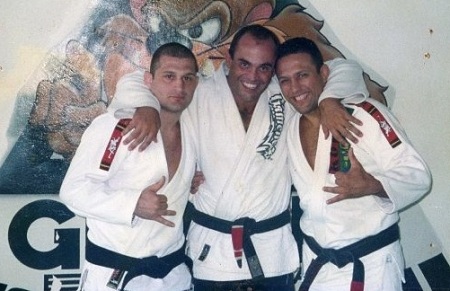 Ralph Gracie, Marcelo & Renzo Gracie.
How do you think Swedish practitioners are up to international standards?
It's getting better and better. You can look at the last European Open, we got the best country price for teams. It's a result of everybody who believed in the sport from the beginning here, when almost nobody knew about it. We will be even better in the near future.
How can BJJ in Sweden continue growing?
Because the sport is a good effective self-defense and excellent workout, more and more people will start to know about the sport. People who start to practice BJJ will fall in love with the sport and bring friends and more friends to training and soon it will become really big.
Brazil and Rio de Janerio will host the 2016 Olympic Games. Do you think it will be possible for BJJ to become an Olympic Sport?
Carlinhos (Carlos Gracie Jr president of International BJJ federation) are doing a good job and I really believe we can make it happen. We just need more organization and get everyone to follow the federation rules when it comes to competitions, everybody has to sing the same music, we can be strong together and make the dream true.
Favorite submission?
My mouth position with ezequiel choke, together with "the Mask", people who have been train with me knows what I'm talking about 😉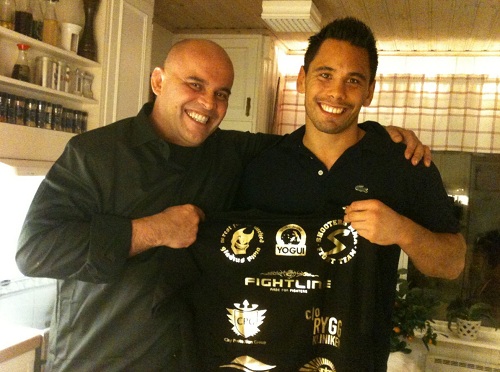 Marcelo & Victor Cheng.
Anything else you would like to add to this interview?
I want to say thanks to everybody, everyone who has been supporting me all these years with friendship and kindness. A special thanks to August who gave me the good opportunity to work with the team and at the Fighter Center, the champions factory. Also big thanks to Ricard Carneborn and Martin Janson my dear students and now black belts also and to all Dynamix family. Let's train hard and make the sport bigger in Sverige. Stor kram!