Pre-ADCC interview: Alexander Trans
You won both your weight class and the open class in the brown belt division at the Mundials 2011, can you tell us about your fights?
I prepared for the Mundial in Ricardo Vieira's academy in Rio de Janeiro and the training there is great. A lot of tough guys, a lot of brown and black belts, so I had really good sparring every day. I injured my knee really bad though and that had a big effect on my training. I'm used to training and fighting injured, but this one was really serious. But injuries are part of the game and you just have to deal with that. I was in good shape though, I've been training really hard since December and thankfully it went as I had hoped for.
I had 5 fights in my weight class and 4 in the Absolute. In the first fight I swept the guy and passed his guard 3 times. In the second fight I swept him, passed and mounted him 2 times. Got rolled over and then finished him with an armbar from closed guard. The 3rd fight was against the same guy I beat in the final at the Brasileiro. This time I swept him one time, almost passed and tried to jump on his back, ended up on bottom and finished him with a kneebar as I was trying to sweep him. In the semi-final I swept directly to mount and finished him with an ezekiel.
The final was against Abraham Marte. I already beat him at the Pan and this time he was just defending the whole time, while I was trying to push the fight. With 30 seconds left he's sitting in my closed guard and I'm up 2-0 in advantages and I'm thinking "Why is this guy still just sitting on his knees stalling?". Then the time runs out and the guy runs out to his friends, screaming like crazy and takes the Puerto Rican flag with him on the mat. Then when the referee raises my hand, he and his coach, Yamasaki, start yelling at me saying that I lost the fight and that I should admit to it. He even sat on the mat and refused to leave. At first they said the referee misread the scorecards and then later they changed their explanation to being that the referee gave the advantages with the wrong hand. In the end the guy was telling me that the referee had given the advantages with the wrong hand, AND misread the score-card. I never heard that one before. Great job by his coach Yamasaki to tell his student that he's winning the fight, when he's actually losing in the final of the Mundial and good sportsmanship to try and take it out on me, that's really professional.
The first match of the Absolute was against James Harbison. Me and he are the only Grand Slam (European Open, Pan, Brasileiro, Mundial) winners this year. I beat him at the Pan with a sweep and this time it was the same. The second fight was against Abraham Marte again, this time he was even more passive than the last fight, but I kept attacking and won 1-0 in advantages. At this point I was getting really tired. In the semi-final we pulled guard simultaneously, I tried to attack his feet the whole fight, but he was really flexible and had strong grips. I won 1-0 in advantages after getting on top.
The final was against Jose Carlos Souza, who beat 2 world champions of this year in Yuri Simoes and Joao Gabriel Rocha on his way to the final. This guy beat Durinho in 2009 while he was still a purple belt, he's really technical, but he fights Medio so I'm a lot bigger. I swept him and managed to stay on top for the rest of the fight. That was the 9th fight of the day, the hardest competition of my career and the biggest day of my life so far.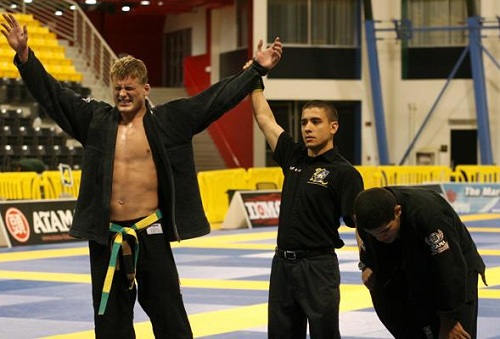 Alexander in the absolute final, Mundials 2011.
Last time I interviewed you, you told us you couldn't compete at the ADCC European Championships/Trials 2010 & 2011 because you was in Brazil and you was pretty sure that you wouldn't make it to ADCC World Championships 2011 this year. Now you are invited to ADCC Worlds, how does it feel?
It is absolutely amazing! It's been a dream of mine to compete at the ADCC ever since I started training. It was Shimon and Bobby who hooked me up, thanks guys!!! I think one of the reasons I got an invitation is because I'm European. That obviously made it a lot easier for me to get invited. But this is a huge opportunity for me and I will be in the shape of my life for this one. I'm not going to Nottingham for the trip, this is my chance, and I am going to be 100 % prepared for this tournament.
What do you think about competitors list so far?
Man, I've never seen a line-up like this in the history of ADCC. The divisions are so stacked this year, it's crazy. I'm really psyched about getting the chance to compete against these guys that I've been watching and looking up to ever since I started doing Jiu-Jitsu. At first I was put in the -99 kg category and even though it would have been a horrible cut for me to make, I immediately said "yes", because you can't let a chance to compete in the ADCC slip away. But now I've been moved up to +99 kg and that is a big relief for me. I doubt that I would have been able to perform well in -99 kg. I think the cut would have cost me a lot of stamina and power, so I'm really happy that the ADCC gave me a chance to fight at my natural weight.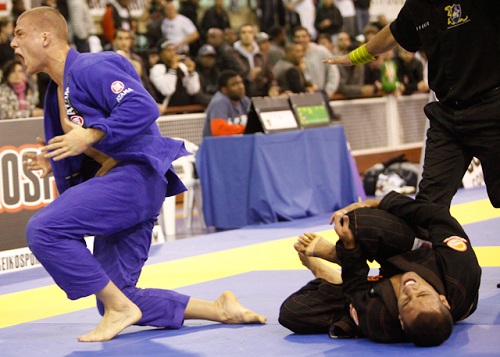 Alexander in the absolute final, European Open 2011.
How are you preparing for the ADCC Worlds 2011?
I am going to Brazil to train with Prof. Helder "Bob Esponja" Medeiros in Joao Pessoa. I was planning on resting over the summer and then going to Brazil later in the year, but when I got the invitation, there was no doubt in my mind that I had to go to Brazil to prepare. So I'm going to go there and train 3 times per day like I normally do when preparing for a competition, doing Jiu-Jitsu morning and night, and hitting the weights in the afternoon. There are some big guys in my category, so I'm going to keep working on getting stronger and gain some weight, so that I hit about 112 kg at the competition. I'm also going to do some cardio during the weekends for this one, I think stamina is a big factor under the ADCC rules, so I'm going to make sure that I won't die in the fight, even if it goes the double over-time.
What do you think about your chances of a medal?
To tell you the truth, I have absolutely no idea of how I am going to perform at this level. I've fought a lot of really tough guys, but I never fought a guy like Werdum or Cyborg. I can't sit and tell you that I think I have a good chance at making it to the podium. As I see it, it would be a huge upset if I made it past the 1st round. But I'm going to try, that's for sure! And I have confidence in myself, I'm going to fight every fight as if it was the final. My goal isn't to reach the semi-final or the final, my goal is the same as it always is when I step on the mat and that is to beat the opponent standing in front of me, no matter who he is.
I'm training as hard as my body allows me to, always putting my heart on the mat when I'm fighting, never giving up and I feel that is all that you can do. That's why I don't like to say that my goal is to one day be a World Champion, because I can't do more than I am doing now and if that turns out to not be enough, then I really can't say that I failed. I put everything I have in my body in this and of course I have the same dreams as everyone who trains as hard as I do, but whether or not I succeed doesn't depend on my performance alone, but just as much of the performance of my opponents. What I can tell you is that I will do everything in my power to win every fight I ever do, whether it is at a local tournament in Denmark or the final of the ADCC.
People are telling me that I have nothing to be nervous about and I should just to be happy to be fighting, but while I do see their point, I can't look at it like that. I'm way too competitive to just go there thinking it's cool to get a chance to get smoked by a big name. If I didn't believe in myself, I wouldn't have applied for an invitation. That being said, I don't feel like I have the same pressure on my shoulders as I normally do. At brown belt, I feel like I have to win the weight and absolute every time, but this time, nobody is expecting me to win a single fight. But I'm trying to not think too much about what other people think, I'm going to go there and fight my heart out and we'll see how it turns out.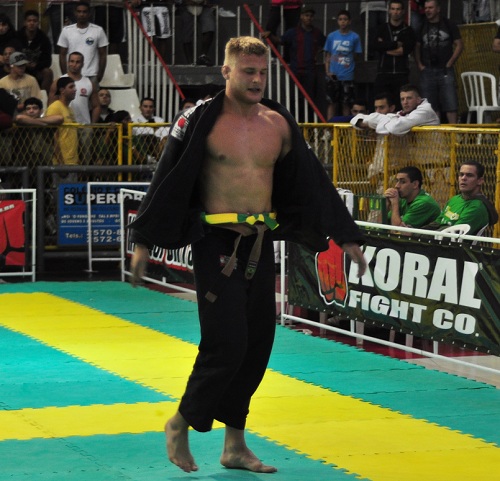 How mentally important are your success at the Mundials, now that you will face tough competition at the ADCC Worlds 2011?
You know, I feel like I've been having a good period this last year. I've had 38 Jiu-Jitsu fights as a brown belt so far and won all of them, only having points scored against me at one occasion, not counting minus-points. I've won the Pan No-Gi, Brasileiro No-Gi, Mundial No-Gi, European Open, Pan, Brasileiro, Mundial and the Absolute too in 5 of them, since getting my brown belt in August last year and I'm currently on a 46-fight win-streak, so I do have confidence in myself. But at the same time I know that things are going to be way different and you can't even compare the level I've been fighting at so far to the level of competition I'm going to meet at the ADCC. You know, I'm still just a normal brown belt, I'm not anything special. I just train hard and I look forward to fighting the top guys, because that's the level I want to compete at.
Any last words?
I'd like to thank my sponsors Knockoutsports.dk, Koral Fight Co., and Fukamuni Racing for supporting me, and Grapplingbloggen.se for the interview, thanks guys!