Intervju: Seymour Yang
*After the swedish version there is a english version*
Seymour Young har lila bälte i BJJ och tränar på Mill Hill BJJ. Han driver bloggen "Meerkatsu BJJ blog" och är en av de mest produktiva gi-recensenterna i världen.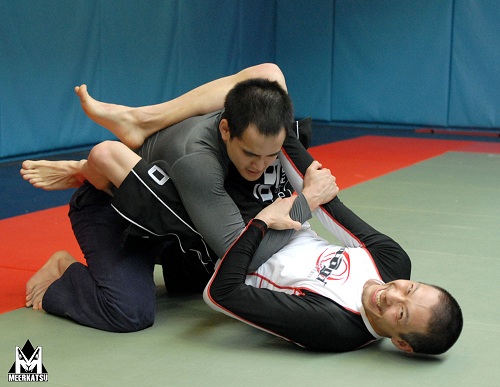 En leende Seymour på rygg.
Hur och när kom du först i kontakt med  Brasiliansk Jiu-Jitsu?
Jag drev och instruerade på en traditionell jiu jitsu-klubb i London när en av mina elever berättade om den här nya grejen som kallades för BJJ. Han visade oss lite lås, jag har för mig att det var en triangel och en armbar från mount. Efteråt sparrades han mot oss och alla undrade vad fan det här var för något! Det här var 2003 och BJJ var väldigt nytt i Storbritannien. Trots det hittade jag en klubb i London att provträna på och sen dess är jag fast. Jag slutade då med traditionell jiu jitsu för att endast koncentrera mig på BJJ.
Berätta om din blogg "Meerkatsu BJJ blog".
Jag började blogga 2004 utan något riktigt syfte.  Jag började skriva inlägg som handlade om min kampsportskarriär, inte särskilt intressant egentligen. Idag fokuserar jag mest på att skriva gi-recensioner, artiklar om tävlingar och min egen konst och design. Jag försöker hålla en så hög nivå som möjligt på innehållet. Mitt vanliga jobb är att göra reportage för tidningar och tidsskrifter, så jag försöker föra över den kunskapen till mina BJJ-artiklar.
Meerkatsu?
Jag ville ha ett unikt namn som var lätt att komma ihåg och inte användes av någon annan. Jag älskar djur och surikater (eng. meerkats) är ett coolt djur. Jag la bara till "su" i slutet för att få en mer japansk klang, och alltså lite mer kampsportsaktig.
Hur kom det sig att du gjorde din första recension?
För att svara på den här frågan måste du ta mig tillbaka till när jag var en nördig liten skolpojke som var besatt av bilar. Jag köpte ofta biltidningen "What Car Magazine" och andra magasin. Trots att det var många år kvar tills jag själv fick köra bil, älskade jag att läsa recensioner om prylar och teknik. Det gör jag fortfarande, men jag är inte lika besatt längre, tror jag. Jag antar att den nördigheten har förts vidare till mina BJJ-artiklar. Min första riktiga gi-recension som jag skrev var för en Faixa Rua och sen dess har jag recenserat 30-40  gi-modeller. Jag försöker göra mina gi-recensioner så intressanta och bra som möjligt, så jag lägger ner mycket tid på bilder och själva presentationen. Men kärnan i varje recension är informationen om storlek, krympningar, vikt och mina personliga tankar om kvalitet, passform, känsla och komfort som jag hoppas att läsarna har nytta av när de ska köpa en ny gi. BJJ är en dyr hobby, men bra recensioner kan hjälpa någon att lägga pengarna på rätt utrustning.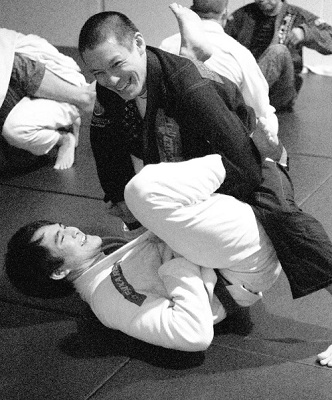 Är det du som kontaktar tillverkare om gi-recensioner eller tvärtom?
Jag har haft väldigt tur för det är väldigt sällan jag själv har bett om en gi för att recensera den. Normalt kommer en förfrågan direkt från företaget. Det är mycket bättre då inte alla gi-tillverkare tycker att det är bra PR att skicka ut gratis produkter mot några ord i en blogg (som inte ens är garanterat positiva). Många företag ser dock värdet i att utnyttja BJJ-bloggarna. Det är ingen skillnad mot de gamla bilrecensionerna jag läste som liten, en produktrecension är ett sätt för företagen att nå ut till sin målgrupp och naturligtvis tar de en risk när de utsätter sin produkt för en oberoende analys.
Någon recension du har tackat nej till att göra?
För flera år sen gjorde jag en gi-recension där modellen var så dålig att jag valde att inte publicera den och jag förklarade varför för företaget. Jag ångrar verkligen det beslutet nu eftersom min recension kunde ha hindrat människor från att köpa den här dåliga gi-modellen. Jag slaktade den i stort sett. Idag skulle jag definitivt ha publicerat den. Så länge jag är rättvis och specifik i min kritik kan jag inte förstå varför ett företag skulle ha invändningar mot mina slutsatser. Jag försöker alltid backa upp mina påståenden med data och bevis. Det är inte bra att bara säga att den här modellen sög. Det är viktigt att förklara varför den sög.
Tycker du att det är svårt att vara objektiv i recensionerna?
Det kanske verkar enkelt, men det är egentligen ganska svårt för en recensent att vara objektiv, särskilt om man känner sig skyldig att skriva något bra om företaget eftersom de gav dig en gratis produkt. Det är ett problem som jag tror att alla BJJ-recensenter har funderat på. Min lösning är att vara specifik och bryta ner recensionen i små delar. Det finns ingen poäng med att skriva om hur himla bra en gi är bara för att den är bra. Man måste titta på detaljerna. Personligen måste jag vara ännu mer informativ i mina recensioner eftersom jag numera designar och illustrerar mer och mer som frilansare åt olika företag som tillverkar kampsportsutrustning. Det är inte sant att säga att jag är oberoende då. Men jag försöker vara så objektiv som möjligt. När jag gör en gi-recension börjar jag med att konstatera mitt personliga engagemang i företaget och sen skriver jag en så saklig recension som möjligt. Fullständig öppenhet är viktigt i sådana fall. Jag kan fortfarande kritisera en gi om jag hittar några fel med den, även om det är ett företag som har anställt mig som designer.
Som illustratör och designer, var får du din inspiration ifrån?
Helt klart får jag mest inspiration från den naturliga världen, vilket framgår av min förkärlek till seriefigurer baserade på djur. Jag har uppenbarligen tillbringat för många timmar av min barndom med att se dokumentärer om djur (mellan biltidningarna såklart). Jag har till och med studerat botanik på universitetet för att få teckna som en del av mitt examensarbete. På något vis fungerar min fascination av djur och BJJ bra ihop.
Scramble är ett märke du har jobbat med, några andra märken?
Jag är god vän med Matt, som är en av ägarna till Scramble, och han stöttar mig lika mycket i min karriär som illustratör som jag stöttar honom i hans coola klädmärke. Vi samarbetar ofta i olika projekt då det känns rätt. Faktum är att han planerar att använda mitt Tengu-konstverk och det ska bli väldigt spännande. Matt är själv en duktig designer och verkar ha en magisk touch när det kommer till design. Men jag är väldigt glad över att få samarbeta med ett antal olika företag. Pågående och nygjorda designprojekt innefattar Tatami Fightwear, Predator BJJ, Oss! Clothing, Competidor Brand, Ronin Brand, Kingz Kimonos, Pitbull Fightwear, Jiu Jitsu Style Magazine, Jiu Jitsu Magazine, Gorilla Fightgear, Strike Fightwear, Jaco och många andra där produkterna precis har släppts eller ska släppas. Vissa undrar varför jag bara inte lanserar ett eget märke, men jag föredrar faktiskt att frilansa åt olika företag. Varje projekt innebär en ny utmaning. Här är något som är alldeles nytt för Grapplingbloggens läsare. Grapplingbloggen kommer vara först med att visa det här som jag nyligen har designat. Det kommer släppas i mitten på januari som en t-shirt och jag kommer bara att göra 50 st i två olika färger. Mer information kommer snart på min blogg och Facebook.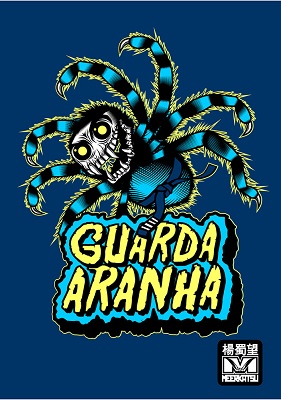 Vilket råd skulle du ge till nybörjare som ska köpa sin första gi?
Det bästa sättet att få råd är från dina klubbkompisar. Recensioner på nätet hjälper, men inget slår att få ett råd av en riktig person. Han eller hon kan påpeka varför just den här eller den där modellen var bra eller dålig. Om någon på klubben har samma storlek som du så kan du även testa hans eller hennes gi. Problemet med vår idrott är att det finns väldigt få butiker som man kan gå till för att prova en modell. Även om du provar den kan du inte riktigt veta hur mycket den kommer att krympa och hur den känns när du tränar. Det är här du kan få hjälp av en recension på nätet. Mitt andra råd är att alltid fråga efter rabatt. Det är lättare att göra när man ska köpa direkt från tillverkaren, men de flesta internetbutiker kan ge någon form av rabatt. Om de säger nej, handla helt enkelt någon annanstans. I de fall jag har betalat för en gi har jag aldrig betalat fullt pris eftersom jag frågade efter rabatt.
Vilken är din favorit-gi?
Jag har ingen favorit-gi. Vad jag har är en personlig rotation av modeller som jag känner mig mest bekväm med och som har hållit länge. Det inkluderar Tatami Fightwear Estilo 2.0, Black Eagle single weave, Black Eagle Raptor Gi och dessutom en ny Ronin Brand Gold Class. Den här uppsättningen ändras med tiden och när jag hittar en gi jag gillar, fortsätter jag med den och om den inte passar mig perfekt ger jag bort den.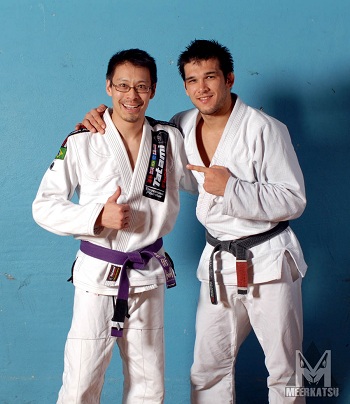 Seymour och Michael Langhi.
Du tränar på Mill Hill BJJ, kan du berätta om den klubben?
Nick Brooks, ett Roger Gracie svartbälte, är den som håller i klubben. Nick och jag kände varandra i många år innan vi började med BJJ. Han var också instruktör i traditionell jiu jitsu (5:e dan han också!). När jag flyttade hem fanns det bara Nicks BJJ-klubb i mitt område där jag var intresserad av att träna. Det är ett fantastiskt ställe att träna på. Först och främst har vi instruktörer som Nick, Daniel Strauss och Oli Geddes som har tävlat och vunnit medaljer i stora tävlingar över hela världen. Den typen av erfarenhet är svår att hitta i en instruktör och som medlem har vi enorm nytta av det. För det andra verkar det som att klubben lockar till sig många BJJ-stjärnor som kommer in och instruerar, som Roger såklart, men förra året kom också Ricardo de la Riva och världsmästaren Rodolfo Vieir. Till sist vill jag säga att Mill Hill BJJ har den där kamratliga stämningen som en BJJ-klubb ska ha, tuff och seriös träning i kombination med stor vänskap.
Hur har grapplingen utvecklats i Storbritannien under de senaste åren?
Det här är ett stort ämne! För att sammanfatta började BJJ bli känt runt 1998 då Royce Gracie, och Renzo tror jag, höll ett par seminarier för ett fåtal intresserade och nyfikna kampsportsutövare. Ett svartbälte som heter Chen Moraes startade den första riktiga BJJ-klubben någon gång runt 1999. Han organiserade till och med den första BJJ-turneringen i Storbritannien. Men det var först när Mauricio Motta Gomes (för närvarande 7:e gradens röd- och svartbälte) började instruera runtom i Storbritannien i början av 2000 som BJJ exploderade. Och två killar startade klubbar, ena hette Roger och den andra Braulio. Deras närvaro verkar ha hjälpt till! Jag måste också nämna alla småklubbar som instruerades av utövare som inte hade tillgång till riktiga tränare i början. Många av dessa är nu brun- och svartbälten och med sitt engagemang hjälpte de till att sprida BJJ runt om i landet. Idag har vi en levande och snabbt växande BJJ. Det finns klubbar i de flesta städerna. Det finns ca 50-60 svartbälten som är bosatta här och det anordnas välbesökta tävlingar nästan varje månad. Unga brittiska utövare börjar också synas på de stora tävlingarna, som t.ex. Daniel Strauss som nyligen tävlade på ADCC VM och talanger som Daniel Agard (World Pro-medaljör), Luke Costello (VM-medaljör), Stephen Martin (VM-medaljör) och Yaz Wilson (VM-medaljör) för att nämna några. Jag kan ärligt talat säga att det aldrig har varit så spännande att hålla på med sporten än just här, just nu 🙂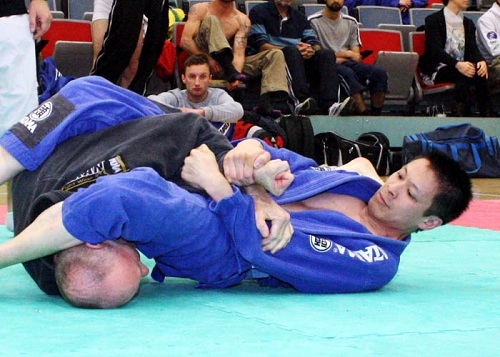 Interview with Seymour Yang
Seymour Young is a BJJ purple belt and trains at Mill Hill BJJ. He runs the blog "Meerkatsu BJJ blog" and is one of the world's most prolific gi reviewers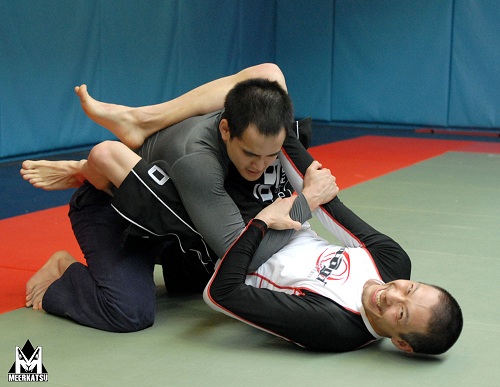 A smiling Seymour on his back.

How and when did you first come in contact with Brazilian Jiu-Jitsu?
I was teaching and running a traditional ju jitsu club in London when one of my students told me he tried this new thing called Brazilian Jiu Jitsu. He showed us all some moves, I think it was a simple triangle choke and an armbar from the mount and then he sparred with us and we were like WTF is this crazy thing! That was in 2003 and BJJ was very embryonic in the UK. However I found a place in London to try out a class and I have been hooked ever since. I since left traditional ju jitsu completely in order to concentrate on BJJ.
Tell us about your blog "Meerkatsu BJJ blog".
I began the blog in 2004 without any real purpose. It started off with random posts about what I was doing in my martial arts career, nothing very interesting to be honest. Today it focuses mainly on gi reviews, event reporting and my own art and design. I try to write and present the content to as high a standard as I can – my day job is to produce feature stories for newspapers and magazines so I try to replicate that professionalism across over on my BJJ material.
Meerkatsu?
I wanted a unique name that one could remember easily and was not used by anyone else. I love animals and Meerkats are kinda cool creatures. I just added the 'su' bit at the end to make it sound more Japanesey and thus, more martial arty.
How was it that you did your first review?
Well, to answer this, you have to transport me back many decades to when I was a geeky little schoolboy obsessed with cars. I would buy What Car Magazine and other consumer magazine publications, even though clearly I was years away from being old enough to drive I just loved reading reviews about gadgets and technology. I still do but less obsessively I think. I guess this kind of geekiness has just transpired into my BJJ content production. The first proper gi review I wrote was on a brand called Faixa Rua and I have reviewed 30-40 gis ever since then. I try to make my gear reviews as interesting and enjoyable as possible so I take a lot of time with the photography and presentation. However at the heart of each review is a set of data concerning size, shrinkage, weight and my personal thoughts over the quality, fit, feel and comfort that I hope is useful for readers when they are considering buying a new gi. BJJ is an expensive hobby but good quality reviews can help make somebody spend their money wisely.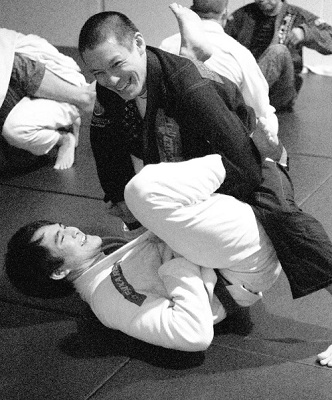 Is it you that contacts brands regarding gi reviews or the other way around?
I have been very lucky, very rarely have I actually requested a gi for review. I normally get approached by the company directly. This is much more preferable as not every gi company feels that sending out free merchandise in exchange for a few words (which are not guaranteed to be positive for the company) is good public relations. Luckily, many brands do see the value in utilising the BJJ blogger network. It is no different to those old car review magazines I used to read when I was a kid – a product review is just one of the ways a company can reach out to its consumer base, but of course they do risk subjecting their product to independent analysis.
Any review you have said no to?
Several years ago, I did receive a gi that was so bad I decided not to publish it and I told the company why. I personally regret that decision now because my review could have prevented people from buying such an awful gi. I basically had bottled it. Today I would definitely have published it. As long as I am fair and specific in my critique, I can't see how a company could object to my findings. I always try to back up my assertions with quantitative data and evidence. It is not helpful to just say, this gi sucked. It is important to provide details over why.
Do you find it difficult to stay objective in the reviews?
Although it might seem an easy job to do, remaining objective for any reviewer is actually quite hard, especially if you feel obliged somehow to write something nice about the company because they bothered to send you something for free. It is a problem I think all BJJ reviewers have thought about. The solution I have found to such a conundrum is to be specific and break down the review into little details. Just like the my answer to the previous question, it is absolutely no help at all to simply wax lyrically about how awesome so and so gi is because it is just awesome. One has to look at the details. For me, I have to be even more informative with my gi reviews – this is because I am now working more and more with various fightwear brands providing freelance design and illustration – it is not true to say I am independent. But I am objective and I try to stay as unbiased as I can. Whenever I review a gi, I state upfront my own personal involvement with the company and then proceed to write as factual a review as I can. Complete transparency is important in such cases. Having said that, I am still happy to criticise a gi if there are problems or issues that I detect – even if that same company is one that has hired me as a designer.
As an illustrator and designer, where do you get your inspiration?
Most definitely it is the natural world where I draw most of my inspiration – as is evident by my complete bias towards animal based cartoon characters. I obviously spent way too many childhood hours watching wildlife documentaries (in between reading car review magazines). I even studied botany at University so I could draw stuff as part of my degree! Somehow, merging my fascination with wildlife and BJJ makes for a good partnership!
Scramble is one brand you have been working with regarding graphics, any other brands?
I was good friends with Scramble owner Matt before he formed his company and he is hugely supportive of my illustration career as much as I am supportive of his cool apparel brand. We often collaborate on projects whenever the idea seems right. In fact he's just planning some gear that will feature my Tengu artwork and I'm very excited about that. Matt is himself a talented designer and he seems to have the magic touch when it comes to art direction. But I'm very lucky to also work closely with a wide range of companies. Current ongoing and recent projects have involved new designs for Tatami Fightwear, Predator BJJ, Oss! Clothing, Competidor Brand, Ronin Brand, Kingz Kimonos, Pitbull Fightwear, Jiu Jitsu Style Magazine, Jiu Jitsu Magazine, Gorilla Fightgear, Strike Fightwear, Jaco  and many many others just released or soon to be released products. Some people ask why I don't just launch my own brand, but I actually prefer freelancing for different companies. Each project presents a fresh challenge. Here's something that is brand new and exclusive for your readers, your blog will be the very first to show this item that I designed recently. It will be launched in mid January as a t-shirt and I will only make 50 in two colour variations (full details on my blog and FB page soon).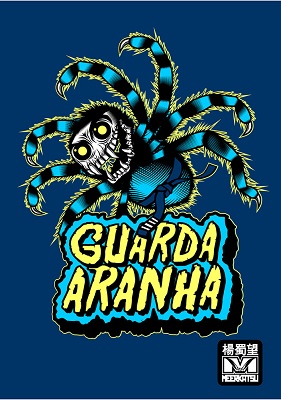 What advice would you give a beginner who wants to buy their first gi?
The best place to go for gi advice is your team mate. Online reviews help, but nothing beats the advice of someone in the flesh. He or she can say this gi sucked or that gi was nice and point out why. If you have someone who is similar in size then you can even try out a gi in person. The problem with our sport is that there are so few actual physical stores where you can walk in and try out a gi. Even then, you will not really know how it will shrink and feel during training. This is where the online reviews can help. The other advice is, always ask for a discount. This is easier when you are dealing directly with the gi maker, but most general fightwear webstores can give some level of discount. If they say no, simply shop elsewhere. In the rare few cases I have paid for a gi, I have never paid full asking price because I asked for a discount.
Which is your favorite gi?
I do not have a favourite gi. What I have is a personal rotation of gis that I feel most comfortable with and have lasted me a long time – these include the Tatami Fightwear Estilo 2.0, Black Eagle single weave, Black Eagle Raptor Gi and, a new addition, the Ronin Brand Gold Class. This line up changes over time as I find a gi I like, I keep it, if it one that does not fit me perfectly, I give it away.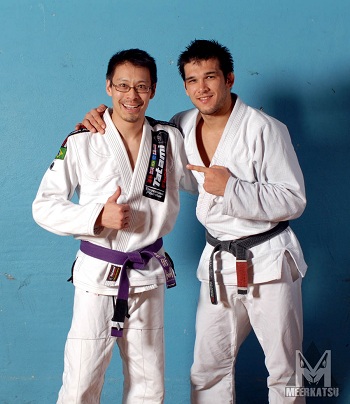 Seymour and Michael Langhi.
You train at Mill Hill BJJ, can you tells us about the academy?
Mill Hill is run by Nick Brooks, a Roger Gracie black belt. Nick and I have known each other for many years prior to BJJ – he was also a traditional ju jitsu instructor (5th dan too!). When I moved home, the only place I was interested in training in within my area was Nick's BJJ club. It is of course a fantastic place to train. Firstly we have instructors like Nick, Daniel Strauss and Oli Geddes who have competed and medalled in major tournaments all over the world. This kind of experience is very hard to find in an instructor and as students we all benefit enormously. Second, our academy just seems to attract large numbers of elite BJJ stars who pop in and teach – like of course Roger, but last last year we had Ricardo de la Riva over for a few days and then current World Champion Rodolfo Vieira popped in one evening etc. Lastly, I would say Mill Hill just has one of those awesome brotherly and sisterly vibes that a good BJJ dojo should have – tough and serious training coupled with great friendships.
How has grappling developed in the UK over the last couple of years?
Man, that is whole other topic! But in summary, BJJ was sort of known about from around 1998, when Royce Gracie and I think Renzo taught a couple of seminars to a few interested and curious martial arts practitioners. A black belt called Chen Moraes started the first proper BJJ club sometime around 1999 – he even organised the first BJJ tournament in the UK. Without a doubt however, the BJJ scene truly exploded when Mauricio Motta Gomes (currently 7th degree red and black belt) began teaching around the UK in the early 2000's. Oh and couple guys opened up academies, one called Roger, the other Braulio. Their presence seemed to have helped! I can't also forget to mention the many many small academies and clubs taught by dedicated BJJers who did not have access to a regular coach in the early days. Many of these guys are now brown and black belts and with their dedication, helped spread BJJ around the country. Today, we have a vibrant and fast growing BJJ scene. There are academies in most cities and towns, many of them full time. There are now 50-60 black belts resident in the country and we have well attended tournaments pretty month each month. Young British born BJJers are also beginning to make a mark on the World scene, with the aforementioned Daniel Strauss recently competing at the ADCC, and exciting talents such as Daniel Agard (World Pro Cup medalist), Luke Costello (Mundial medalist), Stephen Martin (Mundial medalist) and Yaz Wilson (Mundial medalist) to name but a few of today's emerging competitors. I can most certainly say there is no more exciting time to be involved in the sport than right here, right now 🙂